Worms recycle rabbit droppings
Compost worms are amazing creatures and love to feed on rabbit droppings. As a matter of fact they love to 
recycle a wide range of organic materials that are beginning to decompose and convert them into "worm castings", which are regarded by many as one of nature's best natural plant foods and soil conditioners. The list of materials that compost worms like to feed on includes amongst others kitchen scraps, left overs, yard sweepings, human and animal hair, garden clippings, lawn and grass, dog poop, cat poop, cattle manure, horse manure and as well rabbit droppings. To the worms it doesn't matter if the waste is coming from a large sized rabbits or from dwarf rabbits. Worms like their food to be soft and moist. Thats why the waste from rabbits is an ideal food source for worms. Composts worms don't have teeth and therefore either suck their food into their mouth or gulp down particles that are small enough for them to swallow in one piece.
As any keeper of rabbits or dwarf rabbits is faced with the task of keeping their living space clean and will have to remove their droppings on a regular basis he / she faces as well the challenge to dispose of their animals waste one way or another.  

Worms convert rabbit droppings into natural plant food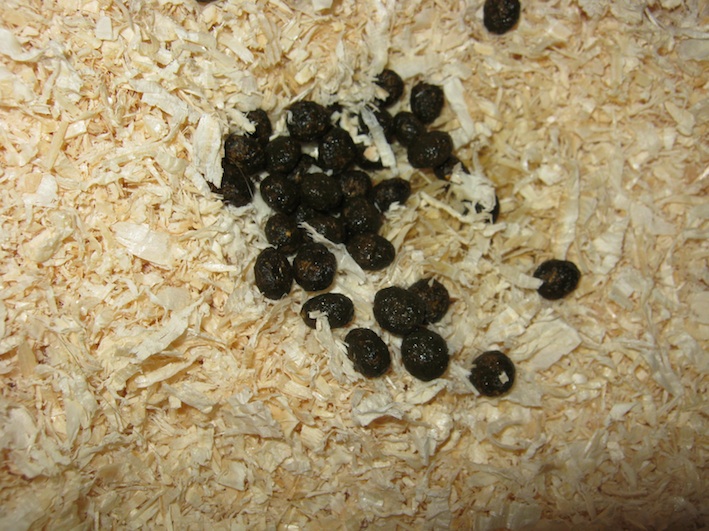 Rabbit droppings can be recycled in a worm farm
As the times where any organic waste was just simply dumped in the garbage bin and then sent to the next landfill where it would rot and pollute the environment are hopefully over we have to find better ways to deal with the organic materials that are produced at home and at work. Composting organic waste materials is a good way to take pressure of landfill sites but I believer recycling organic waste with the help of worms is an even better one. While it is often a little tricky to get a compost pile going and it needs quite a bit of maintenance to keep working and produce the desired compost as a result of one's efforts, recycling organic waste with the help of worms is much less work and the finished product "worm castings" an even better soil conditioner and plant food than regular compost from a heap.

---
---
If you want to recycle the waste that your rabbits produce with the help of compost worms you basically just have to lift the lid of the bin, throw in the droppings and cover the bin again. The worms will do the rest. To learn how to start and maintain a worm farm have a look at the beginners guide in the Navigation bar. There are actually many commercial rabbit breeders that have added worm bins to their set up, which reduced their work load and added another income stream to their business.
They took advantage of the worms appetite for the waste that their rabbits produced on a daily basis and set up worm bins underneath the cages of their rabbits. This way all the manure that the rabbits produced fell straight away from their cages into the worm bins below where the worms were eagerly waiting to fill their tummies with it. No more manual removing of rabbit manure for the rabbit farmers and with the worm castings and lots of worms 2 more products that can be marketed and increase the profit margin of the business.
But even if you are just having a rabbit or 2 has your loved pets at home a worm bin could be a good addition to your 
household reduce your workload, convert the rabbit droppings into excellent natural plant food and you could regularly sell some juicy worms as bait to some fishing enthusiasts to make a little extra money.

---
For more worm compost related information! Type your question or keywords (for example "earthworm" ) into the search box below.

---
---
Making money with earthworms is easy
-----------
Your Questions about worm composting?
Do you have any questions or suggestions about worm composting?

This is the place where you can interact with us and other worm composting friends!
Return from "best fertilizer" to the "home page."

----------
-----------
-----------

Find out more about "compost tea"
----------
-----------