Worm compost

vs.

Worm castings
-----------

Worm compost is by many people wrongly referred to as worm castings. Although both products have similar properties and offer lots of benefits for garden soil and 

plants they are not exactly the same and should be recognized as different materials.
Worm castings are pure worm poop that worms usually deposit on the surface of their living environment, while vermicompost  is worm poop mixed with decomposing organic material.

Without them the rejuvenation of garden and farm soil would be greatly hampered.
Earthworms like Lumbricus terrestris as well as the domesticated red wigglers (Eisenia Fetida / Eisenina Foetida, Eisenia Andrei and the European night crawler (Eisenia Hortensis) are some of the best known earthworm species worldwide.
All of the above mentioned species are omnivorous and able to convert large amounts of decomposing organic materials into nutrient rich worm castings.
They will eat anything that has ever been alive and is now dead. Worms are not interested in fresh organic materials but rather those that have already started to decompose.
---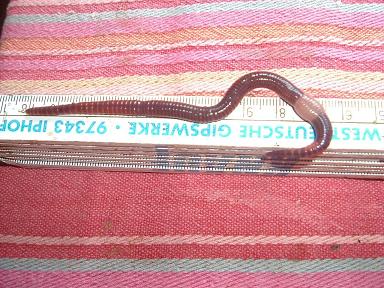 A big compost worm
---
---
How worms feed
As worms move through the soil their mouth works like a vacuum cleaner.
They don't have teeth and virtually suck their way through their environment. While doing so they don't differentiate between soil particles with or without nutritious value.
They swallow it all, digging their way forward through the upper layers of their living space.
----------
The food moves down to the gizzard, a special kind of stomach that grinds down the food particles before they move further down the digestive tract of the earthworms.

During the digestion process the soil and nutritious parts of the food mix will get combined into a sticky moist solution.
The earthworms absorb the nutrient content of this mix and deposit the remaining soil particles as worm castings on the soil surface.
-----------
A small pile of worm castings on a lawn.

Many gardeners have seen the small dark hills of worm castings on their lawn.
These small hills might look initially disturbing to the eye of the avid gardener but they help to ensure a continuously healthy lush green lawn.
Worm castings are a slow release organic fertilizer that contain all the nutrients and trace elements that plants need.
It will only release its nutrients when the plants need them.
Worm castings are infinitely richer in nutrients and trace elements than any regular top soil.
---
---
How to get worm compost
Many worm farmers who want to harvest their worm bin don't want to wait for the worms to finish of all the worm food completely.
They make use of all the produced worm castings as well as the remaining decomposing organic material and add them to their garden soil.
This mix of worm castings and unfinished worm food is the actual worm compost.

Like worm castings vermicompost has the ability to hold large amounts of moisture for the benefit of the surrounding plants.
Dr. Thomas J. Barret, a pioneer in earthworm research grew many kinds of vegetables on his Farm projects.
All vegetables where grown in soil enriched with worms and vermicompost.
He achieved tremendous results and mentioned turnips weighing up to 7.5 pounds and carrots weighing up to 6 pounds.
---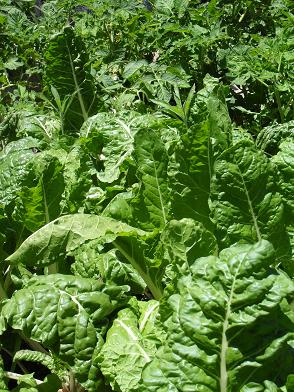 Swiss chard plants grown in worm rich soil

---
In my own earthworm intensive gardening experiments I experienced a single tomato plant that bore more than 500 tomatoes in a period of 3 month and Swiss chard plants that grew tasty green leaves up to half a meter / 20 inches in size.
---------

Vermicompost is as well very useful when you want to transplant your small seedlings. Visit my friend Juanita's page "Vegetable Gardening Made Easier" where she will tell you all you need to know to successfully transplanting your flowers, trees and vegetable plants.
----------

Worm compost is a fantastic soil conditioner that is available free

of charge for those who are involved in worm composting.
One of the advantages of adding vermicompost to the soil is that it offers plenty of food for the earthworms living in the soil.
And over a period of time they will convert the worm compost into worm castings.
----------

Find out how to "harvest worm castings!"
---------
How to turn worm castings into Worm tea!
----------

Go from "worm compost" to the "Home Page"!
----------
To find loads of garden related businesses go to the gardencom.com directory
   
---
For more worm compost related information!
Type your question or keywords (for example "earthworm") into the search box below.
---
Your Questions about worm composting?
Do you have any questions or suggestions about worm composting?

This is the place where you can interact with us and other worm composting friends!
What Other Visitors Have Said
Click below to see contributions from other visitors to this page...

Worms for sale in Ontario, Canada

Hello, I am from London, Ontario in Canada. I was thinking of getting some worms from you. What kind of worms would you recommend and your prices? These …
worm castings vs. vermicompost Not rated yet
Hello John, thank you for contacting us and my apologies for the lat reply but I've been bombarded with questions and new submissions in recent times. …