Worm Food -
All you need to know
---
When it comes to worm food there is one basic rule. "Worms eat nearly anything that has ever been alive and is now dead!" So from 

kitchen scraps like apple, tea bags, coffee grounds or lettuce leaves to human hair, garden waste, old fruit, dog poop and other animal wastes, there is virtually an endless list of materials compost worms love to feed on.
Enough food waste for your worms
Most people that have a worm bin at home will always have enough food for their worms in and around their household.
As a matter of fact the problem for many people is that they produce more organic waste at home than their worms can eat.
How much can worms eat?
Compost are really blessed with a healthy appetite. 4000 compost worms can eat about half a kg / 1 pound of worm food per day. Under ideal circumstances they can consume even more.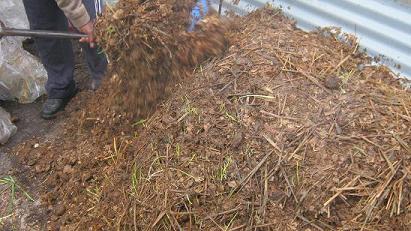 Compost is an excellent worm food.

---
 It is important to note that earthworms don't have teeth. Worms don't feed on fresh kitchen scraps that you add to your worm farm.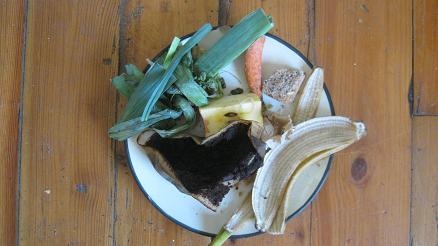 Many kitchen scraps can be used as worm food.

Worm food doesn't need to be fresh
Worms wait till the waste begins to decompose and eat only the parts that start to rot.
So don't be surprised that your compost worms seem to ignore your fresh lettuce leaves and apple core that you threw a day or two ago.
They actually like them very much but just have to wait for the decomposing process to begin before they can take a bite out of them.
Let me rephrase that. Compost worms don't bite into their food, they actually suck it.
The softer the food the more your worms will be able to consume.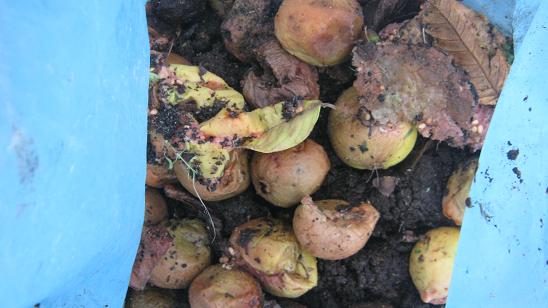 Guava fruit make an excellent food for worms.

---
The softer the food the faster worms will eat
----------

Worms will eat a rotting banana skin or a soft fruit much faster than an egg shell.
Nevertheless over a period of time they can eat even the hardest pieces of organic waste that you might add to their worm bin.

To assist your compost worms it is a good idea to break bigger pieces of waste like lettuce leaves into smaller chunks. This way they can devour their food sooner.
Another trick to speed up the feeding process inside the worm bin is to freeze your kitchen scraps over night before you give them to your worms.
Once the scraps defrost they are usually much softer than they were before.
When you want to add garden waste to your worm bin it is important to make sure that it has not been treated with any pesticides or insecticides. This might kill your worm herd after they fed on it. Worms will gladly eat grass and lawn clippings but it is advisable to only add about a layer of 5 to 10cm / 2 to 4 inches to the bin at a time.
If you add to much you might run the risk of the grass starting to heat up inside your worm bin as it starts to decompose.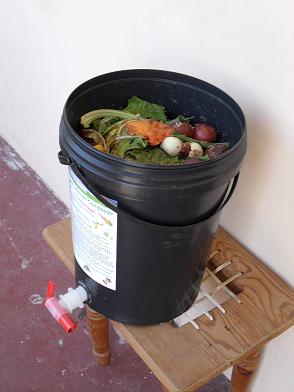 Vegetables and eggshells added to a worm bin.

---
---
Worms eat  moderate amounts of citrus fruit
---
----------

Much has been said about citrus fruit peels and their acidity.
Many people advise against feeding them to your worms inside a worm bin but in my opinion this is actually not a problem.
It is just important to add acidic food in moderation to the worm bin.
This way the worms can eat it and then retreat into their save bedding beneath.
One good piece of advice when it comes to feeding worms in a worm bin is to never cover the whole surface of the bin when you add food to it.
It is best to only add worm food over one half of the surface area of your worm bin and to the other half when you add food the next time.
In case there is anything harmful in the food you added the worms will still have an area where they can escape to.
---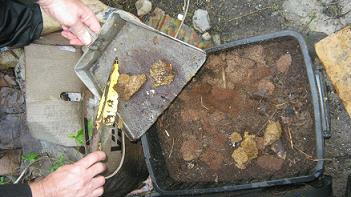 Compost worms love to eat dog poop.

---
----------

Feeding your compost worms is really not rocket science!
Just see what kind of kitchen waste, garden waste and other organic matter accumulates in your household and start to feed your hungry herd of compost worms with it.
If all goes well your worms should multiply quickly and

the more worms you got the more worm food they will eat. If you run into any trouble and you can't find the advice you where looking for on our site, let us know and we will add to the site as soon as we can.
All the best and happy worming!
---------
Worm composting as sustainable business
----------
----------

Find out what to feed your worms in our "worm food rating list"
----------
Did you know that compost worms like to feed on "horse manure"
----------
----------
More information about worm food
---------
----------
---
For more worm compost related information!
Type your question or keywords (for example "earthworm") into the search box below.
---
Your Questions about worm composting?
Do you have any questions or suggestions about worm composting?

This is the place where you can interact with us and other worm composting friends!
What Other Visitors Have Said
Click below to see contributions from other visitors to this page...