Worm Tea

-


Organic Fertilizer and Natural Pesticide

When I offer some worm tea that some people call as well compost tea to clients, many of them are still smiling or looking a little

perplexed wondering what on earth I am talking about? But more and more garden enthusiasts and farmers are learning about the outstanding benefits of this great organic plant food.
All kinds of plants like… ·Shrubs, ·Trees, ·Flowers, ·Vegetables,
·Seeds, ·Seedlings and ·Lawns
will benefit from the application of this organic fertilizer to their soil.
Worm tea is produced when worm castings are mixed with water and molasses and brewed for 24 hours.
The molasses will serve as a food source for beneficial microorganisms that are part of worm castings.

The brewing process multiplies the beneficial microorganisms of the worm casting tea rapidly.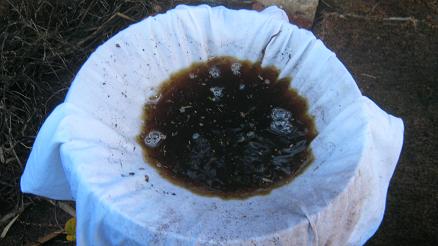 Liquidized worm castings are prepared to be bottled.

The finished product will achieve the best results if used within 24 hours after the end of the brewing process but will still be beneficial for several months.

If you bottle it just shake it before using it to activate the remaining microorganisms.

Liquidized worm castings have many positive properties for soil and plants.
·They act as a natural fungicide and insecticide

·can be used as an organic fertilizer

·will never burn plants
and will improve soil structure and plant health.

To brew earthworm tea you will need...

a bucket or tank,

an air pump with some piping,

an air stone usually used for fish tanks,

some worm castings and molasses

and water.
It's really easy to produce and the results will speak for themselves.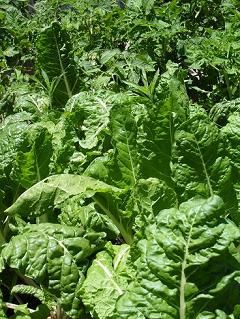 Spinach plants growing in Worm casting enriched soil.

How to brew worm tea
----------

This recipe is worked out for a 20 liter / 5.29 gallons

1.Fill your bucket with water that is chlorine free. If you don't have access to pond water add the air stone, switch on the air pump for 12 hours and let the chlorine evaporate
2.Add 1kg / 2.2 pounds of pure worm castings
3. Add 25 ml / 1 tablespoon of molasses
4. Let the air pump run for 24 hours
5. Remove the air stone
You can use the product immediately.
Liquidized worm castings brewing in a bucket.

----------

Take note when you want to use the tea as a foliage spray it is advisable to filter it through a cloth before you use it.
This will remove any solids that might block the spray mechanism of your bottle.
Although a properly prepared worm casting tea can be used pure it is quite ok to dilute it with water.
A ratio of 5 parts of water to 1 part of tea can still bring great results.
Try the recipe and tell us about your experiences!

Another great product for your plants and garden soil is compost tea!
Send us some pictures of your garden. We would love to hear from you!
----------
-----------
-----------
---------
Natural way to clean a clogged drain
----------
Worm Farming a good Green business idea

-----------
10 reasons to start a worm farm
------------
-----------
-----------
-----------
-----------
-----------
----------

Return from "Worm Tea" to the "Home Page" 

Your Questions about worm composting?
Do you have any questions or suggestions about worm composting?

This is the place where you can interact with us and other worm composting friends!
What Other Visitors Have Said
Click below to see contributions from other visitors to this page...