Carolina Reaper diary part 3
The Carolina Reaper diary part 3 will deal with all that happened to my hot chilies during the month of July. It was time to 

harvest the seeds, dry the fruit pods and prune the plants. As it was the middle of winter here in Cape Town the temperatures were quite cold for our standards. The average temperatures during the nights were 8 degrees Celsius / 46.4 Fahrenheit with the lowest temperature of Zero degrees Celsius / 32 degrees Fahrenheit on the 12 of July. The temperatures during the day were an average of 18 degrees Celsius with the highest temperature of 30 degrees Celsius / 86 degrees Fahrenheit and the lowest temperature of 13 degrees Celsius / 55.4 degrees Fahrenheit on the 16th of July. 
In addition to the 414 seeds I harvested from the first 20 ripe Carolina reaper pods I managed to harvest seeds from another 37 ripe pods with 8 pods gone moldy and not usable anymore. To avoid this in future I strongly advise earlier harvest and improved storage arrangements for harvested pods.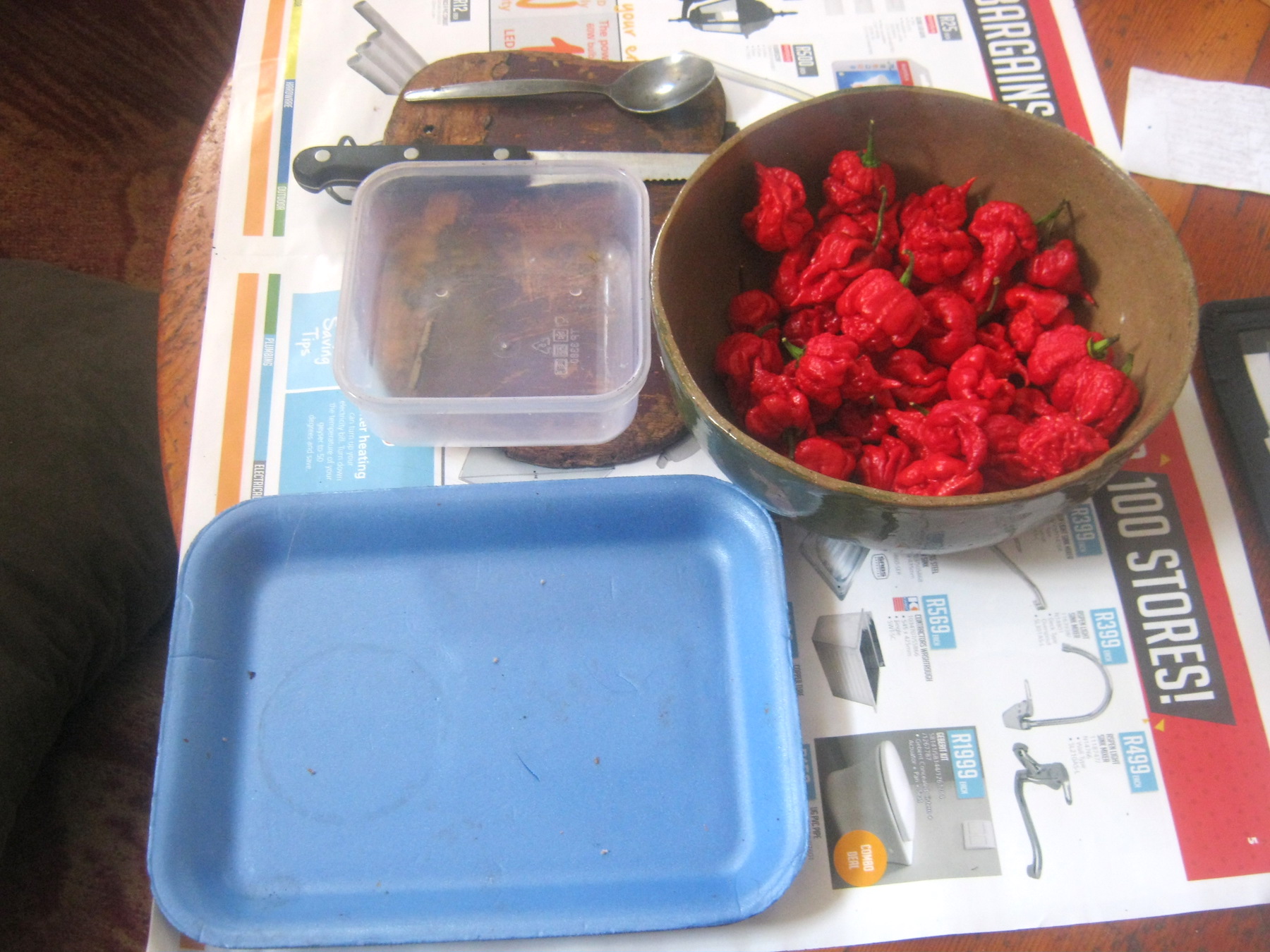 Ripe Carolina Reaper chilis and tools for seed harvesting on a table
---
Carolina reaper diary part 3 
- 
Harvested Seeds
The entire yield of seeds from the 57 ripe pods of my Carolina reaper plants was
Ripe chili pods in total - 57              
Fewest seeds  per pod - 2
Most seeds      per pod - 40
Average seeds per pod - 20.21
Total seeds  harvested -  1182
The seeds have been placed in trays to dry. The halved pods I threaded on a fishing line and hung them in the kitchen window to dry.
Carolina reaper diary part 3 - Harvesting and drying of chilli pods
When harvesting Carolina reaper seeds or any other Super hot chilies it is vital to make a few preparations to ensure all goes smoothly and no one gets unintentionally harmed :-)! While the outside of the chili pods are quite safe to handle, the inside of them once they have been cut open is containing the heat. 
So it is vital to not let any of the flesh, membranes or seed come into contact with your skin if you want to avoid some serious pain at a later stage. I have been there unsuspecting rubbing my eye hours after I had harvested some seeds from some Carolina reaper pods. I had protected my hands with plastic bags but some how some of my fingers got contaminated and I promise you it was not a nice feeling at all :-( !
I will write a detailed report on the harvesting, storing and drying of chilies on separate pages in the near future.
First Carolina reaper seedlings in 2017 
Of all the 56 seeds I planted on the 30th of May (Carolina reaper Diary 1) so far only 4 germinated after about 40 days on my window sill. All 4 came from the fresh seeds that I had used. This is a very low germination rate of just above 7% but as we are approaching spring I will not give up hope yet and hope that the rising temperatures will still cause some of the seeds to germinate.
The worms are still active in the pot that the chili plant is growing in and I am convinced that they will continue to recycle our household waste  and enrich the soil for the plant for the next growing season. The cold weather has clearly shown it's effects on the chili plant but apart from many leaves turning yellow and getting attacked by tiny snails the plant is still producing tiny fruit pods. I 
doubt however that they will manage to ripen and am considering to harvest them soon and to prune the plant back to give it a well deserved rest for the remainder of winter. I will share more about that in the next installment. I hope the Carolina reaper diary part 3 had some useful information for you. If you have any further questions or suggestions please feel free to leave your comment below.

Go to Carolina Reaper Diary part 1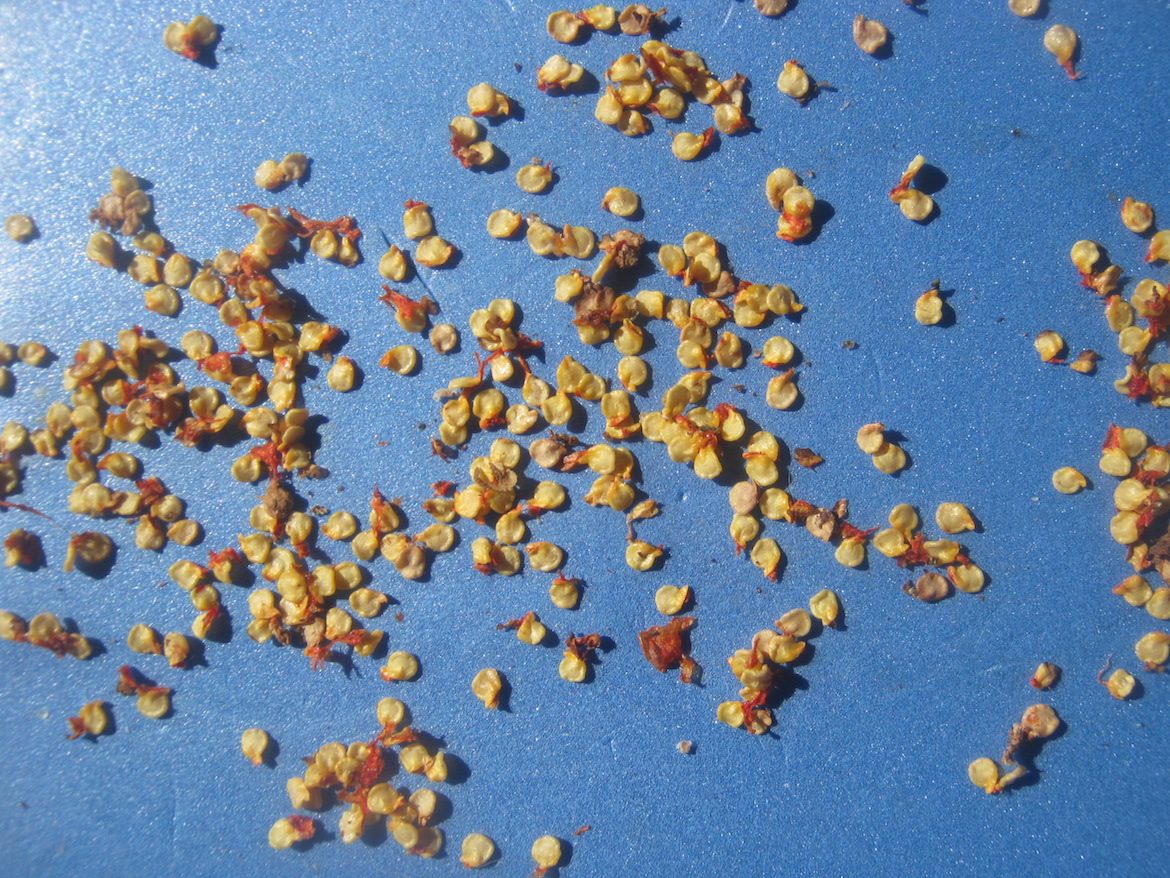 ---
Go to Carolina Reaper Diary part 2

---
Return from Carolina reaper diary part 3  to the Home page
---