Baby worms get half eaten! :(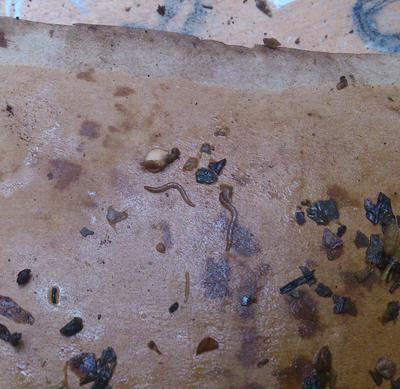 Healthy baby worms, even after the ant incident
Hi,


I have a Box with European Nightcrawlers standing in my yard for 2 months now. The adult worms seem fat, fast and strong and they eat and mate actively.
As a result I had a nice amount of baby worms crawling in that box, but now I find only halves of that baby worms. Some dead, sticking on the walls, like they tried to escape, and others still living and struggling in the bedding.
So I dug a bit more to see what lives in this box besides my worms, but only found brown and white mites.
There where Ants in the bin for a day maybe 2 Weeks ago, but at that time the young worms where still unharmed and I immediately took measures like raising the moisture and moving the box to a higher place where not that many visitors come by.
I would appreciate any help, because I can't tell what eats halves of my baby worms, but would prefer to be able to at least protect the next ones.
Also, I made some pictures.
Answer:
Hello thank you for your submission and your concern for your worms.
Earthworms do have a lot of natural enemies and quite a few of them can regularly be found inside well established worm bins. Centipedes are very common in worm farms and like to feed on smaller worms they can overpower. Slugs are apparently as well keen to devour a worm if they can get hold of it. Both slugs and centipedes would need some time to eat a whole worm and might hide if they get disturbed while feeding?
Usually natural predators of compost worms like Red worms or European Night crawlers will consume the whole worm and not just parts of it.
In all my years as a commercial worm farmer I have never experience half eaten baby worms like those you shared in your pictures. I would suspect that there maybe might have been some kids involved who wanted to test the old myth that both ends of a worm cut in half will survive!? Which is of course not true!
It is not nice to loose worms but a well run worm farm will usually produce plenty of baby worms and will be able to compensate for the loss of a few immature worms.
Please keep me posted if you find the culprits?
Kind regards
Stephan Kloppert
Author of
"How to start a profitable worm business on a shoestring budget"