Worms in an aquaponics system
by Stephan
(Cape Town and Radevormwald)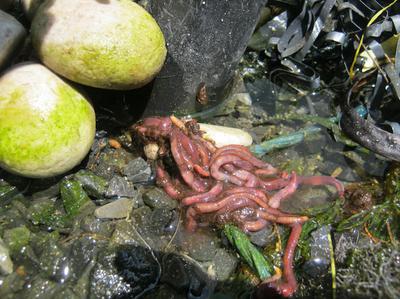 Worms added to an aquaponics grow bed
Another great way to use compost worms is to add them to an aquaponics system. This way you can kill several birds with one stone :-)


Add worms to the medium of an aquaponics grow bed and they will dive into it out of sight within a minute or two to escape from the light. Worms breath through their skin and as long as the water is regularly flowing from the tank with the fish to the growbed and back they will have a great time living in the growing medium, which in my system consists of gravel. The water will keep their skin moist and will transport the fish poop into the growbed which the worms will feed on and convert into worm castings which in return will be used by the plants that grow in the medium as plant food.
So worms, plants and the growing medium will take care of the fish poop and keep the water clean and the worms will produce plenty of organic fertilizer which isn't harmful for the fish but very beneficial for the plants in the system.
In my case a single mint plant that I planted a few month ago is growing into an enormous bushy plant despite despite the fact that we harvest some of the branches nearly on a daily basis to use in the kitchen for sauces and tee!
Apart from mint there are lots of other fruit and vegetable plants like for example tomatoes or peppers that will enjoy growing in an aquaponics system that is enriched with compost worms.
And another benefit is the fact that there is no tedious watering of the plants ever needed and the water use in an aquaponics system is much lower than in conventional soil gardening.
So why not start a small aquaponic system at home. It's easy to set up, low maintenance and can produce edible fish and tasty healthy fruit and vegetables
Happy worming
Stephan Kloppert
Author of "How to start a profitable worm business on a shoestring budget"
Editor of www.worm-composting-help.com