Red worms
Of all the different types of earth worms, red worms are the ones that can be found in most composters around the world. Earth worms can be found all over 
---
---
the planet. They are living on all continents except Antarctica.

It is estimated that about 4000 kinds of earth worms are crawling and digging in the different kinds of soils of the earth.

All of them feeding on decomposing organic matter and converting it into nutrient rich soil conditioners.
Earth worms are beneficial for soil and plants but only about a handful of all the worm species can be used in commercially.
Most kinds of worms are either breeding to slow or are difficult to keep in captivity which would cause problems for both the professional- as well as the private worm farmer.

----------

----------
Slow multiplication rates of earth worms in composters would make their use unattractive for commercial enterprises and would lead to slow composting rates inside the worm composting bins.
In the search for a suitable earth worm to be used in composters the red worm was discovered by pioneers like George Sheffield Oliver and Dr. Thomas J. Barret in the 20th century.
Red worms are known
by many different names.
Red worms are known by many different kinds of names that either are used as trade names or that have developed in different kinds of the world.
So when someone offers you red wigglers, carriba worms, compost worms, Egyptian reds or Californian reds to mention just a few popular names, they are most probably all red worms (Eisenia fetida).

To be certain you should ask any supplier for the scientific name of their worms. This will prevent you from purchasing a worm that is actually not the real deal.
---------
The scientific name for red worms is either  "Eisenia fetida" or their close cousin "Eisenia Andrei".  You can use both to recycle kitchen- and garden waste in worm composters.

Eisienia fetida are by far the most popular composting worms in the world.
They are prolific breeders and will double their population under ideal conditions every 3 month.
They can eat up to half their body weight per day in captivity and will usually gladly stay inside their worm bins.
They are hardy creatures that can tolerate temperatures between 5 to 30 degrees Celsius  and 41 to 86 degrees Fahrenheit.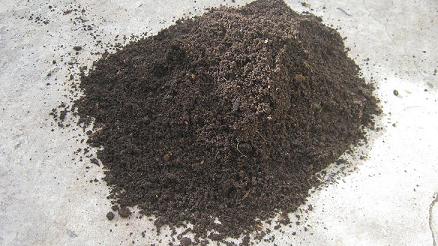 A pile of fresh worm castings.
----------
If you want to start a composter with worms you should purchase at least 500 of them to add to your worm bin. This will ensure a quick multiplication of worms inside your bin.
To get your first batch of reds go to our worm business directory and search for a worm supplier in your area.
---------

However if you do have the time and patience you can probably get your starter batch for free.
If you have a compost heap in your garden or backyard have a look. If it is in the right condition you might find loads of worms in it having a feast.

If you don't have a compost heap, spread the word and ask friends and family to look in their compost heaps. The worms you might find there will most probably be reds (Eisenia fetida).
Collect them and place them in a bin or bucket with some safe bedding and you are in business. 
Worm composting is environmentally friendly and reduces the production of harmful greenhouse gases methane and CO2.
---
---
One of the greatest benefits for gardeners is the fact that earth worms used in composters convert organic waste into nutrient rich worm castings which might be the best fertilizer known to mankind.
Worm castings are infinitely richer in nitrogen, phosphates, magnesium, sulfur, and calcium than the best garden soil you can imagine.
The castings can as well be used to produce compost tea and worm tea which are used as liquid plant foods and natural pesticides.
---
---
---
----------
Return from red worms to the home page.
----------
-----------
-----------
---------
Natural way to clean a clogged drain
----------
Learn more about compost worms.
----------
---
For more worm compost related information!
Type your question or keywords (for example "earthworm") into the search box below.
---
Your Questions about worm composting?
Do you have any questions or suggestions about worm composting?

This is the place where you can interact with us and other worm composting friends!